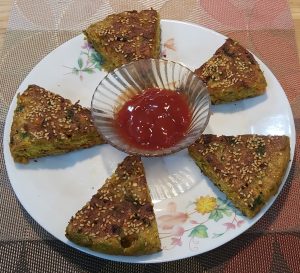 Pizza shaped snack recipe:
Ingredients:
1) 1 cup wheat flour
2)1 /2 cup suji
3) chopped onion small
4) 1 tbsp grated carrot
5)1 tbsp green capsicum
6)2 tbsp coriander leaves
7) ½ tsp garam masala
8) 1 tsp cumin powder,
9)1 tsp ginger garlic paste
10) 1 tsp turmeric powder
11) ½ lime 
12) ¼ tsp baking soda
13) til 14) chilli flakes
15)salt to taste

Method: a) Mix the wheat flour and water thoroughly and keep aside for 15 minutes.
b) After 15 minutes, add the remaining ingredients (except baking soda, til and chilli flakes ) to the above and make a smooth paste with water. Now add baking soda and mix well.
c) Grease a cake pan, layout parchment paper and pour the batter prepared as in b) . Smoothen on top . Sprinkle til and chilly flakes . Now the pizza snack is ready for steaming.
d)Take a steel bowl, large enough to accommodate the cake pan .Pour water in the steel bowl, keep a small stand and keep the cake pan with pizza snack above it. Steam on high flame for 15 minutes with a lid on the steel bowl. Pierce with a sharp knife to check whether properly cooked.
e)Cool the pizza type snack and invert on a plate. Remove the parchment paper and revert with face up on a chopping board. Cut into triangular shapes.
f) Pour oil in a frying pan and fry the triangular pieces.
g) Serve hot with tomato sauce, coriander chutney or schezwan sauce. Delicious! Enjoy!